SEAFOOD DISHES*Spicy ** Very Spicy ***Extra Spicy

No substitutions please! We do not use MSG in our dishes!
Thai sweet & sour dish is made with stir fried bell peppers, onions, pineapple, and carrots
in our own homemade sweet and sour sauce.Served with a side of jasmin rice.
+ ORDER
Stir fried rice with egg, shrimp, peas, carrots, raisin, red bell, turmeric powder, with garlic chilies sauce.
Topped with cucumber and cilantro.
+ ORDER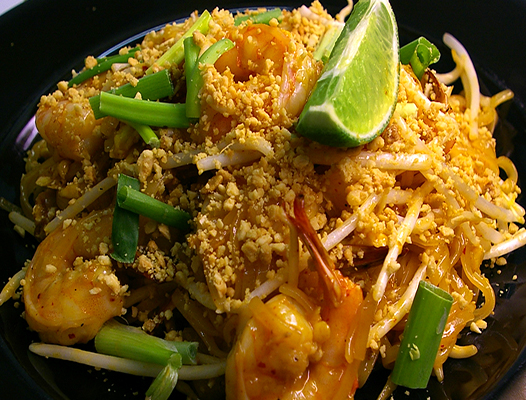 Thai rice noodles, stir fried eggs, shrimp, pineapple, bean sprouts, cracked roasted peanuts, and topped with green onions.
+ ORDER
Stir fried cashew nuts with shrimp, celery, onions, red bell, chili pepper flakes with a Thai seasoning.
+ ORDER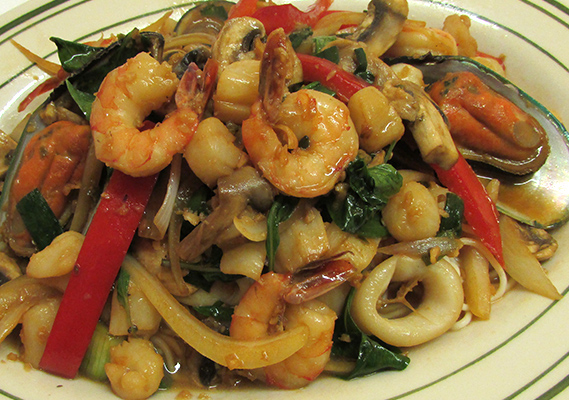 A spicy stir fried dish made with scallops, shrimp, squid, mussels, onions, Thai fresh basil, red bell, mushrooms, Thai hot peppers, fresh garlic and red wine. Served with angel hair pasta.
+ ORDER
Grilled seasonal shrimp, served with jasmine rice, sliced cucumbers, steamed vegetable and our homemade ginger sauce.
+ ORDER
This special fried rice is made with shrimp, fresh pineapple, cashew nuts, raisin, tomatoes, carrots, eggs, green peas, and onions.
+ ORDER
Stir fried glass noodles with shrimp, scallops, squid, mussels,eggs, tomatoes, green beans, peas, baby corn, onions, celery, cabbage, carrots, mushroom, and bean sprouts.
+ ORDER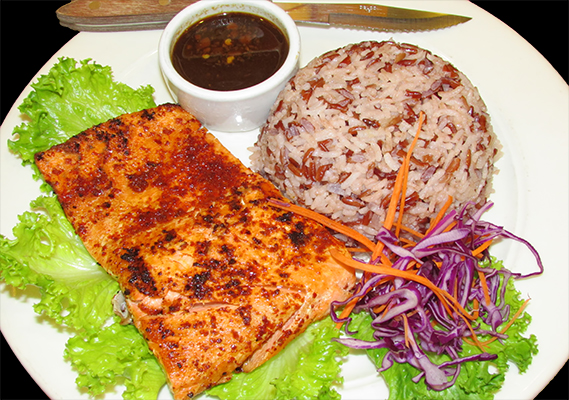 This wonderful dish is made with grilled salmon, served with jasmine rice, ginger sauce, and steamed vegetable.
+ ORDER